This summer has been filled with endless opportunities that have injected new energy and life into me. But, what has truly inspired me is the opportunity that sports has provided for my life. I remember being a kid at 8 years old, running around in the park with my friends playing basketball, soccer, and football. I had my fair share of memories from sports. Coming from urban areas plagued by poverty, drugs, and gang violence; Sports is a gateway for the youth to escape their realities. I'm sharing an inner-narrative of "Sport Changes Everything. Sports gave me something to look forward to in my life and I always knew it would be my job to pay it forward to the next generation of youth. In Toronto we have a divine sports culture, with all due respect thanks to our loyal fans!
1. Tristan Thompson Basketball Skill Camp
Brampton Native Tristan Thompson & company hosted a free basketball clinic for the youth in Toronto. Each summer the 2016 NBA champion makes it a priority to do a community-based initiative. The one-day camp was comprised of skills development stations and team building exercises. Tristan Thompson then concluded camp with an intimate discussion about life skills and education. Campers all showed their appreciation for the hometown hero and they cheered and received pictures and autographs. Tristan Thompson is also the founder of the Amari Thompson Fund, which aims to support his brother along with thousand of kids suffering with epilepsy. Tristan has nurtured a lasting partnership with Epilepsy Toronto to host events that spread awareness about the disease. On August 1st Tristan Thompson hosted the Amari Thompson Soiree 2019 in Toronto.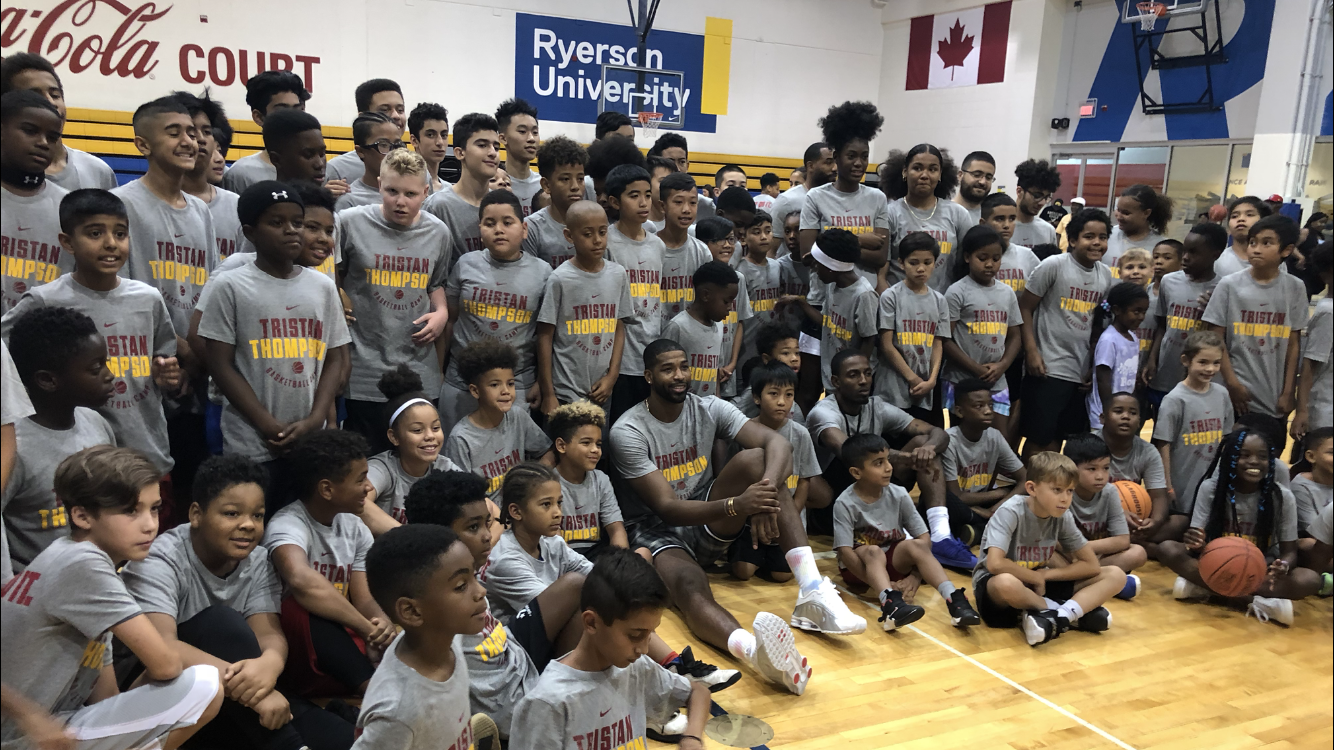 Tristan Thompson Basketball Camp
2. OVO Baksetball '19
This years OVO Fest kicks off with the annual OVO Basketball tournament sponsored by Nike. OVO Basketball has created a unique buzz north of the boarder, attracting the top pros, colleges and NBA stars. This year's tournament is comprised of 6 teams: REPS UP, OVO/1LOVE, TOPSZN, MADE, BOUNCE, & C.I.A. that will battle for ultimate supremacy. In it's 6th year OVO Basketball continues to bring the Toronto community together, from athletes, entertainers, figures, and more. It's the perfect warm up before the Caribana festivities kick in. OVO Fest highlights the true essences of Toronto's divine sports culture. Championship Friday brought over 2,500 people in attendance to watch a unique clash between OVO and M.A.D.E. NBA stars Stanley Johnson, Kelly Olynyk, Langston Galloway all suited up for OVO, while Shai Gilgeous-Alexander, Kenneth Fareid, and Nickiel Alexander-Walker were with M.A.D.E. The game went down to the wire but it was Stanley Johnson that made plays down the stretch to secure a 106-102 win. With the win OVO captures their 4th Championship. It's only right that we celebrate championships all summer long!
Raptors Forward Stanley Johnson suits up for OVO
Day 1
BOUNCE 124 TopSZN 106
MADE 110 C.I.A. 91
OVO 105 REPSUP 103
Day 2
TOPSZN 110 OVO 96
MADE 94 REPSUP 85
CIA 109 BOUNCE 108
Day 3
TOPSZN 101 MADE 94
OVO 114 BOUNCE 104
CIA 103 REPSUP 97
Day 4
MADE 121 CIA 102
OVO 112 TOPSZN 106
Day 5
3rd Place Game
REPSUP 109 TOPSZN 106
Championship Game
OVO 106 M.A.D.E. 102


OVO wins its 4th title at 6th annual OVO Basketball
3. UNINTERRUPTED
LeBron James and partners launch their digital sports media network in Canada making it their first international expansion. LeBron James and Toronto Rapper Drake have developed an authentic relationship that made this expansion very organic. UNINTERRUPTED was launched back in 2015 founded by LeBron James & his childhood friend Maverick Carter. Their objective was to give athletes a platform to share stories with fans that goes beyond the arena; UNINTERRUPTED has bridged the gap for various athletes globally. UNINTERRUPTED Canada will serve as a digital hub for athlete-centric stories, docu-series, and more. According to the press release MLB player Marcus Stroman will have a series, along with NBA Champion Serge Ibaka who has his new fashion line in the works. Expanding into the Canadian market will allow for UNINTERRUPTED Canada to intersect culture, sports and media to Canada's unique audience. Filmmaker Vinay Virmani will serve UNINTERRUPTED Canada as the Chief Content Officer, while Scott Moore will be the CEO.
Canada becomes apart of the UNINTERRUPTED family!
Thanks: @ovobasketball, @klutchsports, @realtristan13, @uninterrupted , @tgq.inc
Photography by: @ovobasketball , @georgepimentel1,